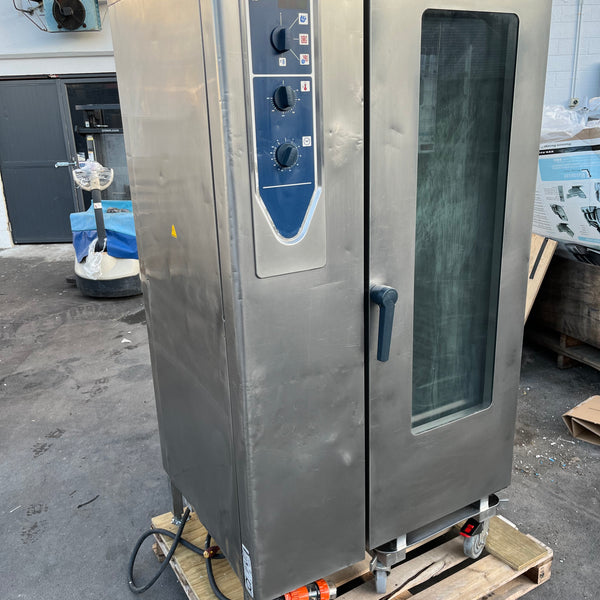 RATIONAL CD201 COMBI OVEN 20 TRAY WITH WARRANTY MODEL : CD201 S/N : E21DA97091105 POWER SUPPLY : 3 PHASE 400V DIMENSIONS:  EXTERNAL(Dimensions) Height : 1870mm Width : 1010mm Depth : 830mm...
FREE
SHIPPING
100% MONEY
BACK GUARANTEE
ONLINE
SUPPORT 24/7
RATIONAL CD201 COMBI OVEN 20 TRAY WITH WARRANTY


MODEL : CD201
S/N : 
E21DA97091105
POWER SUPPLY : 3 PHASE 400V
DIMENSIONS: 
EXTERNAL(Dimensions)
Height : 1870mm
Width : 1010mm
Depth : 830mm
INTERNAL (Dimensions)
Height : 1540mm
Width : 460mm
Depth : 675mm
TRAY DIMENSIONS
530*330mm
PRODUCT FEATURES
Precision Cooking: The Rational CD 201 brings precision to your cooking process. With its state-of-the-art technology, you can control temperature, humidity, and time with unparalleled accuracy. This means your dishes consistently turn out perfectly, meeting the highest standards of taste and presentation.

Intuitive Interface: Cooking shouldn't be complicated, and the CD 201 ensures that. Its user-friendly interface simplifies the cooking process, allowing you to focus on your culinary creativity rather than wrestling with complex controls.

Versatility Redefined: Whether you're baking, roasting, steaming, grilling, or even sous-vide cooking, the Rational CD 201 adapts to your every need. Its multifunctional capabilities make it an indispensable asset for any professional kitchen.

Time Efficiency: In a fast-paced kitchen environment, time is of the essence. The CD 201 excels in reducing cooking times without compromising on quality, thanks to its advanced cooking algorithms. Serve your patrons quicker, while maintaining the extraordinary taste they expect.

Energy-Efficient: With sustainability in mind, the CD 201 is designed to minimize energy consumption. This not only saves you costs in the long run but also contributes to a greener kitchen, aligning with modern environmental values.

Reliability and Durability: Built to withstand the rigors of a professional kitchen, the Rational CD 201 boasts a robust construction and high-quality materials. It's an investment that guarantees years of exceptional performance.

Compact Footprint: Space is often a premium in commercial kitchens. The CD 201's compact design optimizes your kitchen layout, giving you more room to create without compromise.
WASHPRO WARRANTY 
3 months warranty on-site in Auckland 
OR 3 months warranty on parts outside of Auckland 
---
SHIPPNG & INSTALLATION INFORMATION 
Can organise installation in greater Auckland
OR Can organise freight nationwide at buyers expense
---
Feel Free To Check Out Our Website For A Wider Selection Of Ovens https://www.washpro.co.nz/collections/combi-ovens
---
Contact Us for Special Requests

https://www.washpro.co.nz/pages/contact-us